Is Removing Tile Flooring Yourself a Bad Idea?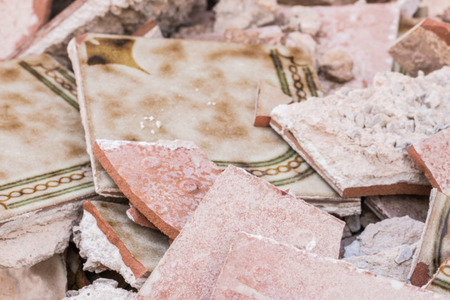 To cut right to the chase, "DIY" tile floor removal is not a good idea. Especially if you don't want a dusty mess left behind, that you will be stuck cleaning up for months. In addition to cleaning, you will be exposed to the threat of the toxic dust particles that are released during a traditional tile floor removal.
During tile floor removal, carcinogenic silica dust can be released into the air and quickly spreads throughout your home. This dust can get in your bedrooms, bathrooms, throughout the kitchen in the cabinets etc. The dust is easily distributed throughout the home via the HVAC system.
Removing Tile on Your Own is Harder Than You Think
Without the assistance of a professional company like Breathe Easy Dustless Flooring Removal, removing tile can actually be an extremely time-consuming project with a higher level of difficulty than expected. The time is takes to remove the flooring depends significantly on what is below the floor. You may not know what lies beneath the tile floor, the previous owners or installers could have attached is to anything from mason board underlayment, to cement or some other type of material.
The tile floor removal process involves a lot of hard work, such as; breaking, chiseling, hauling off, dusting etc. Not to mention the risk of damaging the material below, or yourself. Many people believe removing the tile is probably as simple as easily popping out tiles, making a pile and revealing a smooth surface below that the new flooring material can be attached too. Unfortunately, this just isn't the case.
If you do choose to remove the flooring on your own, just know there will be a large amount of dust left behind. This dust is harmful to breathe in, it is especially harmful for individuals with health issues: asthma, allergies, COPD, autoimmune issues etc. The dust left behind will be left in the home for months without the help of a dustless floor removal company. Our equipment removes 99% of the carcinogenic silica dust before it is even airborne! Attempting to remove the floor with an unqualified company or yourself could result in injury and may cause serious and permanent health problems.
In addition to a dusty mess, you will be stuck with having to haul off and dispose of the old tile flooring, you may even have to hire a company to haul or the debris and / or come to clean the home.
Instead of going through all that, call Breathe Easy Dustless Flooring Removal for a quote. This is what we specialize in. We are the only truly dustless flooring removal company in Brevard County, Florida and have been in the flooring industry for over 35 years. Our experience and level of customer satisfaction is paralleled by none! We will leave your home as clean as it was before we we're there, or better. We look forward to working with you, contact us for a free in-home estimate today!
---
Check Out Our Google Reviews!

Review
"Just a great company. Did everything right and truly dustless. Showed up on time. Worked till job was finished and very considerate about our needs and concerns. I would recommend with the highest rating. Thanks guys."
August 16th, 2023

Review
"As advertised great crew, professional job. Would recommend to anyone who asked."
August 8th, 2023

Review
"We have had multiple great experiences with Jesse and his crew at Breathe Easy. The crew is highly skilled and take their job seriously. These guys go above and beyond. It's so nice to hire people who truly care, and their work reflects this. We..."
August 3rd, 2023

Review
"Breathe Easy is truly dustless!!! Christian and Matt carefully covered up areas around the old floor and diligently removed the 28 year old Terra Cotta tiles. The company came highly recommended and certainly lived up to their excellent..."
July 31st, 2023

Review
"I had a fairly large job but the crew worked tirelessly until it was finished in one day. They did a fantastic job removing all tile and thinset and cleaned up beyond what I expected."
July 20th, 2023

Review
"Great experience with this company! We had just over 1000 sq ft of tile removed in our two story home, which we have been dreading doing, and it went so smoothly! All of the surfaces and furniture were protected with plastic, and they moved all of..."
July 7th, 2023

Review
"They did a great job on our tear out. Kitchen, bath, laundry room and foyer. Cleaned up when finished and we're on time. Nice crew, could not have asked for more. Good job guys, thank you."
June 16th, 2023

Review
"These guys do an amazing job taking up tough tile, wood, etc. getting it down to the subfloor to minimize floor prep."
June 9th, 2023

Review
"The guys were prompt and professional. Completed the job faster than planned and cleaned up the area better than expected."
June 8th, 2023

Review
"Great job and service. They did in 3 hours what would take me 2 days, with no mess to clean up."
March 7th, 2023

Review
"We needed to replace the tile in our master bathroom, and it's really hard to find people willing to take on such a small job. Breathe Easy was recommended to remove the existing tile and they did a wonderful job. Arrived on time, were friendly..."
February 11th, 2022

Review
"If there is any wait for this company there's a reason for it. They do a great job and go above and beyond. Highly recommend. Thanks again for the help on my full remodel project."
December 27th, 2021

Review
"Breathe Easy removed 1000 SF of tile from my home. They arrive on-time for all appointments including the quote, walk-through and each demo day. Every employee worked hard and was polite and friendly. They completed the job in one full day and a..."
September 12th, 2021

Review
"The work provided was the removal of ceramic tiles in my house. The individuals completed the work in a timely fashion and leaving the house in a organized state and as clean as possible. I am planning to hire them for additional work. I think..."
August 17th, 2021

Review
"Jesse and his crew were wonderful. He was accommodating to the inconvenience I had and very professional. His communication was excellent and everyone was efficient and fast. They busted their butts removing the difficult tile and thinset and left..."
June 17th, 2021

Review
"I highly recommend Breathe Easy Dustless Flooring Removal! Dustin and Tee showed up on time and were extremely professional. They were quick getting the job done, and they did an incredible job. It truly is dustless."
April 9th, 2021

Review
"Jesse and his crew were wonderful. This is a TRUE dustless service. He has special equipment for this. I had no dust after they removed all of my tile, and the thin set was sanded down all the way to the bare concrete floor. And they were done in..."
March 25th, 2021

Review
"Awesome job! Jesse and his crew showed up on time, and removed 300sf of tile in about 4 hours. Best of all, their equipment captured all of the dust. I highly recommend them and would not hesitate to use them again."
March 13th, 2021

Review
"I highly recommend Breathe Easy Dustless Flooring Removal for any tile removal and demo, needed in your home. Especially if you're living in the home during demo. These guys are professional and efficient. Wouldn't do it any other way!!"
March 4th, 2021

Review
"Great Team, and Great Work:)"
February 24th, 2021

Review
"Jessie and his entire crew are true professionals that got our flooring demo and install of our whole house done on time and with excellent results. There is probably nothing more disruptive to a homeowner than living though a flooring demo but..."
February 22nd, 2021

Review
"Jesse and his professional and productive crew delivered what they promised in removing 1000 sq ft of tile in one day! If you haven't explored dustless tile removal and have ever experienced "the old way" it truly is dustless and the rooms..."
February 17th, 2021

Review
"I used Breathe Easy Dustless flooring removal and was quite impressed with the quality and professionalism of this company. They removed 480 square feet of tile from my home and completed the work efficiently and with no dust. They showed up on..."
January 19th, 2021

Review
"I can't say enough positive comments about this company. Jesse and his crew were amazing. I've seen neighbors try to remove their own ceramic tile and the frustration and mess it caused. Breath Easy removed 1100 square feet of tile and wood..."
December 1st, 2020

Review
"Jesse from Breathe Easy Dustless Flooring removal came to my home promptly at 8:30 as scheduled to remove the old flooring in my office. His crew was courteous, professional and very experienced as to what they do! My husband has COPD and cannot..."
November 24th, 2020

Review
"Jesse and the team were phenomenal. Very quick and responsive. They came in and removed all of my tile and didn't leave a speck of dust. I highly recommend them to anyone looking to get there flooring removed. Thanks guys!"
November 8th, 2020

Review
"Today we had Breathe Easy Dustless Flooring Removal come into our home to remove tile in preparation for installation of new vinyl flooring. The crew who did our job were very courteous and extremely professional. Since both my husband and I have..."
October 28th, 2020

Review
"They removed tile flooring in our home. Great work and very professional. I would recommend them to anyone getting any flooring done. The crew was very fast getting the job completed and Jesse was very quick on getting us an estimate."
October 27th, 2020

Review
"We used Breathe Easy Dustless Flooring Removal to remove tile from our kitchen, family room and hallway. When we signed up for the dustless, I said yah right, dustless my ***. It was incredible. There were vacuums hooked to all equipment when tile..."
October 27th, 2020

Review
"I received a quick response for an estimate. The price was fair. Jesse and his team were very professional and extremely hard working. I have seen tile removal that is not dustless, and it is a mess I don't want to deal with again. This company..."
October 22nd, 2020